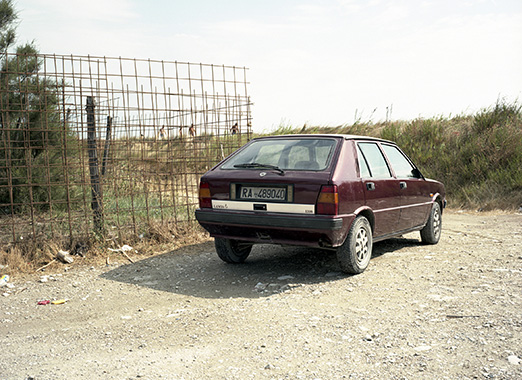 [vc_gap height="30″ hide_under=""]
Name:?Allegra
Last Name:?Martin
Country:?Italy
Website:?www.allegramartin.it
Nominated by: Francesco Zanot
[vc_gap height="30″ hide_under=""]
ABSTRACT
LIDO
Lido Adriano, Ravenna, Italy, 2013/2014
These pictures are part of a photographic research commissioned by?the 'Osservatorio Fotografico', (a photography research project based in?Ravenna, Italy) in occasion of the project "Dove viviamo" – launched in?2009 and aimed at building a visual archive of the city.
Lido Adriano is a seaside town a few miles away from Ravenna. Lido?Adriano is like a condominium where you meet stories and destinies.?Born in the '60, Lido Adriano has become a destination for immigrants ,?living many changes during the last decade. Discos became apartment?hotels and hotels residencies. This photographic series is a tale of a?long summer journey at Lido (although shot in different sessions), when?time stops, the sun burns and it's the perfect moment to take a nap. The?hedge, element that divides the private space of the residencies from?the streets, becomes the sharp line to walk alongside taking pictures?and walking.
Details, encounters and situations were recorded in images, contributing?to re-imagine a place with a fragmented and elusive identity.
[vc_gap height="30″ hide_under=""]
PROJECT DESCRIPTION
Maurizio Sacripanti
?Space in architecture is the representation of the decline of a relation:
physically, between horizontal and vertical dimension, the dimensions of the
human beings.?
A tireless, visionary, ironic architect, firmly committed to the inseparability of the arts, Sacripanti has always fascinated me for his being an avantgard – designer and a clear mind. I would like to have the possibility to continue my photographic work on Sacripanti's architectures. My intention is to photograph his projects linked to the idea of bridge: Forl? public square and its parking lot, the school of Santarcangelo in
Romagna, the Museum in Maccagno. Sacripanti as a ?pontifex?.
The bridge is a continuous reference behind the designer? ideas of architecture. On the first hand for its structural component, and in second hand for its symbolic and formal meaning. The work, both for the exhibition and the book, will be composed by 30 photographs of his projects (but also of the place where he lived), plus a final chapter dedicated to the inheritance of the architect: three architectures of different designers that have been inspired by Sacripanti years after. In the final serie I would like to insert also some portraits. I would insert a image of a paint of Sacripanti son, who died in a young age, and inspired his father work.
First photos here:
http://www.allegramartin.it/index.php?/2010/scuola-di-santarcangelo-inromagna/
STRUCTURE
INTRODUCTION (maybe a short introduction text by Franco Purini)
PHOTOS:
Piazza e parcheggio a Forl?
Scuola media Santarcangelo di Romagna
Museo Ponte a Maccagno
SACRIPANTI'S HERITAGE: three projects
[vc_gap height="30″ hide_under=""]