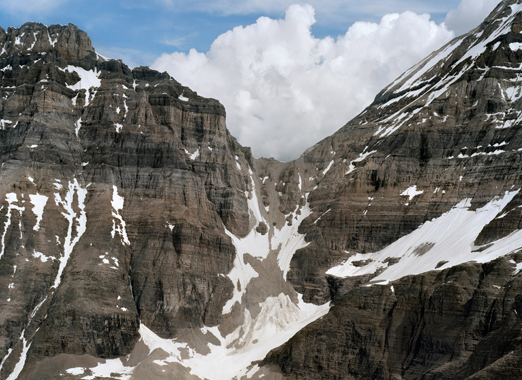 [vc_gap height="30″ hide_under=""]
Name: Andreas
Middle Name: Valentinas
Last Name: Rutkauskas
Country: Canada
Website: www.andreasrutkauskas.com
Nominated by: Joan Fontcuberta
[vc_gap height="30″ hide_under=""]
ABSTRACT
My project ?Virtually There? illustrates how technology can enable an experience in the natural environment without the necessity of venturing outdoors. For this series, I downloaded GPS tracks from the Internet, looked at archival photographs, and consulted topographic maps in order to plan routes. I then captured images in Google Earth, and reenacted the virtual journeys in real life, making my own photographs of the Canadian Rocky Mountains with a large format camera.
This series draws on the history of landscape photography and the romantic era, yet takes a new approach by challenging the hierarchy of images made by pressing the shutter of a camera, against images that are the product of exclusively virtual explorations. The role of the artist-as-photographer is reconsidered, as both the view made in a virtual environment and the view recorded by the camera offer something unique to the spectator.
[vc_gap height="50″ hide_under=""]
PROJECT DESCRIPTION
Stretching 8,891 kilometres, the border between Canada and the United States of America is the world?s longest shared land boundary. Artistic representations of borders and migration play a major role in contemporary culture, yet there is no significant photographic investigation of this boundary existing today. Once referred to as ?undefended?, my project ?Borderline? undertakes a survey of this landscape monitored by subtle technologies, including improvised barriers, gates, X-ray scanners, and other forms of surveillance. Humans are discouraged from lingering in this territory, which is vast and arguably impossible to control.
I have already begun making images of the infrastructure and architecture along this border, and when complete, it will be my most substantial project to date. I will work with approximately fifty final photographs for a publication. A selection of these images, made with a 4×5? camera, will be enlarged as chromogenic prints for exhibition (roughly 102x127cm each).