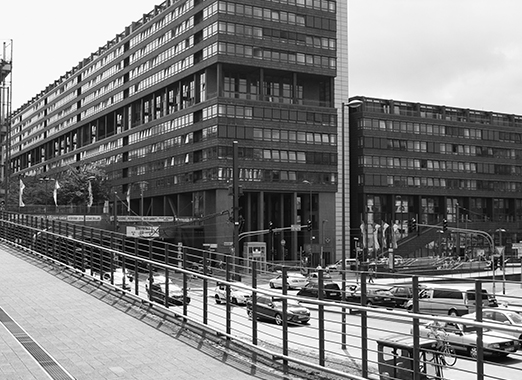 [vc_gap height="30″ hide_under=""]
[vc_gap height="30″ hide_under=""]
ABSTRACT
My project THE NEW INEQUALITY deals with the relation of architecture and neoliberalism: How could neoliberal architecture be defined: through style, politics, economy?
I try to approach this complex problem with explicitly simple means: walking a marked-out path through the city of Cologne, the place where I live, passing by a wide range of buildings of all different ages and styles which have almost nothing in common on the surface. Thus, I define them as neoliberal by their very inequality: Their relation is rather structural, meaning it is their specific condition, appreciation, topographical and political context which connects them and produces an image of the architectural present.
The project exists both as a book (published by Spector Books), containing 66 photographs, and a wall presentation, containing 24 photographs; both of these formats include supplementary text detailing the background of the buildings and the subject matter.
[vc_gap height="30″ hide_under=""]
PROJECT DESCRIPTION
My planned photographic project is dedicated to the question of public spaces in European cities: Especially after the universalization of consumption as their primary function, there has been a dramatic reduction of open space which is not occupied by architecture, or at least by a precisely defined function. In the last couple of decades, market places or representative public squares of older times have been more and more transformed (and often diminished) in their meaning and expanse.
By visiting the city centers of several European cities, I would like to analyze and compare the state of public squares and spaces, for example in Amsterdam, Milan, Berlin, Zurich, Vienna, tbc.
My usual photographic method consists of basic historical research in advance, followed by analytical walks through these mapped-out places, equipped with a simple digital camera, and finally a concentrated selection of images presented in rather small sizes or in book format.
[vc_gap height="30″ hide_under=""]