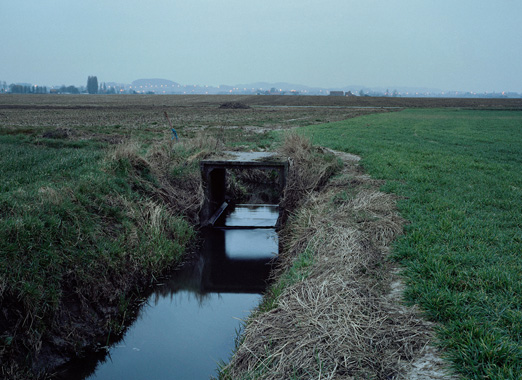 [vc_single_image image="10379" css_animation_delay="100" img_align="none" img_lightbox="" img_link_large="no"]
[vc_gap height="30″ hide_under=""]
[vc_gap height="30″ hide_under=""]
ABSTRACT
Shot at Dawn focuses on the sites at which soldiers from the British, French and Belgian armies were executed for cowardice and desertion during the First World War. This form of military discipline was the source of much controversy and in Britain the files on these soldiers were closed to the public until the 1990s. Through months of research, trawling through courts-martial documents, old aerial photographs and monastery diaries, Dewe Mathews was able to pinpoint the precise locations of a number of these executions. She created a series of large-scale photographs; recording these hidden but traumatised landscapes at the same time of day and time of year as the execution took place.
By photographing and titling them as she has, Dewe Mathews is reinserting the individual into that space, stamping their presence back onto the land so that their histories are not forgotten.
[vc_gap height="30″ hide_under=""]
PROJECT DESCRIPTION
Twelve miles off shore, in the shallows at the mouth of the river Thames, the Shivering Sands sea forts loom out of the mist. This small congregation of eighty-foot high, rusting hulks was constructed during the Second World War to defend Britain from enemy invasion. In the 1970?s and 80s, these platforms were occupied by illegal pirate radio stations, but now derelict and disintegrating, they are slowly crumbling into the sea.
Using a similar approach to my project ?Shot at Dawn?, I would like to collaborate with historians, geologists and radio broadcasters to build up a richly layered portrait of these extraordinarily resonant pieces of architecture. Combining archive material and with my own images, I want to unravel the story of these monuments, using a technique that reflects the shifting character of the tidal Thames landscape.
[vc_gap height="30″ hide_under=""]