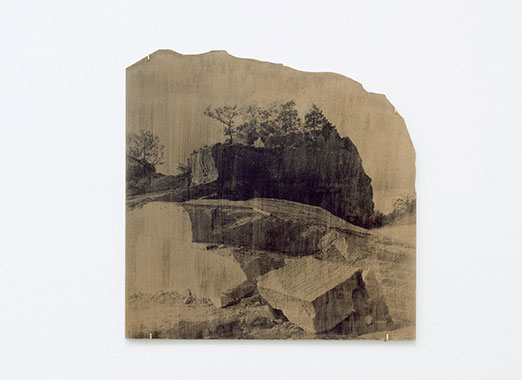 [vc_single_image image="10419" css_animation_delay="100" img_align="none" img_lightbox="" img_link_large="no"]
[vc_gap height="30″ hide_under=""]
Name: Ditte
Last Name: Knus
Country: Denmark
Website:?www.ditteknus.com
Nominated by: Beate Cegielska
[vc_gap height="30″ hide_under=""]
ABSTRACT
Dissolving Boundaries
My work takes it's origins in photographic motifs from Nordic nature. In the darkroom I dissolves the landscape as image by exposing the landscape motif on to sculptural elements, this at once both deconstructs it and assembles it in a new way. Poetically the landscape and photograph unfolds in a dimension between image and space. I reflect on the notion of the pristine nature and reveals the landscape as a contracted cultural image.
Part of the photograph is the physical relationship to the light source from the enlarger in the b/w darkroom, something the audiences is normally never concerned with. Including it creates a trace to something there once was, as I stretch and fix the motif in positions which did not appear when the photograph was capture with the camera. In this way I get to work with an abstract sense in the landscape by detaching fragments of the photographic reality to create a distance between ourselves and our understanding of reality.
By exceeding the regular confinements of the photograph, while at the same time creating a connection to the original materiality of the motif, my curiosity in the two subjects merge to become a whole.
[vc_gap height="30″ hide_under=""]
PROJECT DESCRIPTION
I intent to take my investigating of landscapes dissolved by humans (as seen in my earlier work) to landscapes which in different ways appear desolate and vacant. Not because the landscape is determined as untouched nature, but due to phenomenas where the perspective view disappears or generate a gestalt transforming proces, which force the human brain to make an alternative translation and understanding to orientate and comprehend what the eyes are observing. Seen when ultraviolet B rays caused by snow reflecting blind the eyes or in a Fata Morgana.
Working on location in landscapes with these phenomenas e.g. the Icecap in Greenland and the Sahara desert, the projects purpose is to activity engaged with the moment of the lost or disrupted vision and the transition where it becomes clear again: How does the lost of the outward sight influence the inner imagery? And what types of architectural perspectives will the brain flip though before setting on one which make sense? I will be working analogue, medium format, with colour folio to collage the inner vision on the landscapes in the actual exposure. Book: Hardbound, 3-5 foldouts, 34 x 30 cm. Exhibition large lambda prints.
[vc_gap height="30″ hide_under=""]