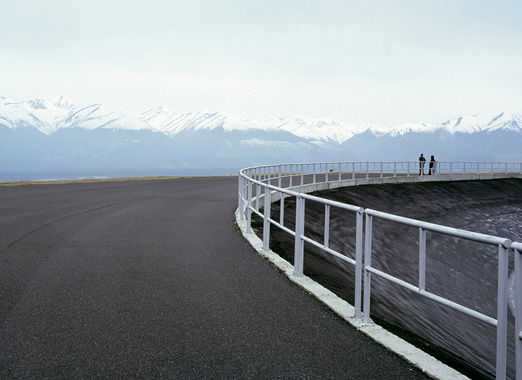 [vc_gap height="30″ hide_under=""]
Name: J?n
Last Name: Kekeli
Country: Slovakia
Website:?www.jankekeli.sk
Nominated by: Zuzana Lapitkova
[vc_gap height="30″ hide_under=""]
ABSTRACT
In the series ?Pictures of Landscape? I?play with the border between photographed and painted picture. I?am inspired by the aesthetics of the landscape painting from the beginning of 19th century. A camera with a 4×5 inch negative allows me to capture in great detail forest corners, devious roads, melancholic panoramas-everything complemented with lyrical colourity, soft light or quiet dignity. A?human figure in the photographs has a similar function as in the Romantic paintings-he/she is a staffage, plays a secondary role which can supplement the story or become a?scale emphasizing the majesty of landscape sceneries. The majesty is supported by large in case of diptychs even monumental format. It is important to evoke in a spectator a feeling that he/she can almost touch the landscape, enter it. Size of these diptychs is not a purposeless fashionable element but an important means of expression, likewise a?vacant lot between two parts of the diptych, which adds dynamic to the scene and opens up multiple layers of its reading. In the era of experimentation and digital manipulation I?return to classic themes in art. With my camera I?go to plain air to capture sections of the surrounding, which I?am familiar with. However, I?do not need to define them in terms of geography. After all, painting does not have to have its correspondent in reality either. I?unobtrusively disturb bond between photography and reality in order to bring attention back to picture.
[vc_gap height="30″ hide_under=""]
PROJECT DESCRIPTION
The project ?Pictures of Landscape? is still open and new photographies are being added up to the series. My intention is to present this project in its widest form in prestigious galleries in Slovakia and abroad. It means to enlarge and adjust at least ten best diptychs from the series in format 150×190 cm. It involves costs of scanning of 4×5 inch diapositives, enlargement of photographies and their adjustment on an aluminium plate so that the production of artworks would meet the highest gallery qualities. A catalogue, in which all the photographies from the series ?Pictures of Landscape? and texts of scholars of fine art and curators asked to participate in the project would be published, should be a part of the exhibition project.
[vc_gap height="30″ hide_under=""]