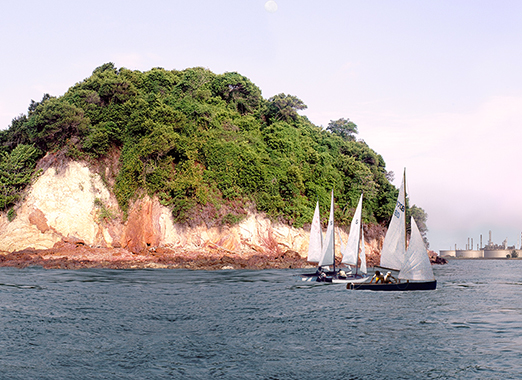 [vc_gap height="30″ hide_under=""]
Name: Juria
Last Name:?Toramae
Country:?Thailand
Website:?www.toramae.com
Nominated by: Wubin Zhuang
[vc_gap height="30″ hide_under=""]
ABSTRACT
?It is in society that people normally acquire their memories. It is also in society that they recall, recognize, and localize their memories.? — Maurice Halbwachs
POINTS OF DEPARTURE is an enquiry into the role of photography as a tool that invokes remembering and displacement in context of Singapore's rapidly changing landscape. By drawing reference to the sea as the sole constant feature amidst the change, the series provides new narratives constructed from layers of photographic images, old and new, indicative of their memory locations. These narratives are not a literal recollection of the islands or the coast, but a meditation on the ebb and flow of time and the clarity of human memory.
[vc_gap height="30″ hide_under=""]
PROJECT DESCRIPTION
I learned that public access to the shore has been reduced to a meagre 8 percent in recent years, a shocking number that seems to be decreasing for a nation of islands that is Singapore, despite the main island?s continual expansion. Previous generation of islanders has been resettled and reduced to "fishermen in flats" whilst the current generation has limited visual knowledge of what lay beyond the shore. I feel the importance of documenting the insular landscape and people along sea-land contact, to provide an outward look into the forgotten space that is beyond land.
Method: offshore intertidal trips to access views of islands from the shoals and reefs using medium format film camera.
Book: hardcover, large landscape book.
[vc_gap height="30″ hide_under=""]